April 19, 2019
Are you looking to take your dog on vacation with you or the family during spring break?
It is time to let your hair down and enjoy the sun with your family in a special way. Everyday life can be stressful and overwhelming and your pets need a break too. Petland would like to share four easy tips to keep your pets comfortable, happy, and safe while traveling to your much-needed destination. Need a perfect companion to take on future spring breaks, check out our available puppies right here!
Create a checklist of the things you need for your trip.
We believe having a checklist keeps things on track and increases organization. Take an inventory of all the items and supplies your pet needs to be comfortable before packing. Make a checklist you can use for packing your pet's luggage not just for this trip, but trips in the future as well. The more organized you are the less stressed you will be. We have several Petland locations near you if you have questions about taking your pets on vacation.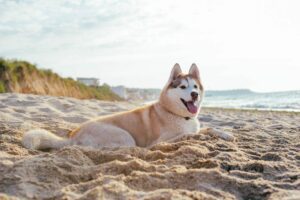 Make sure their health is up-to-date.
Is your pet up-to-date on their vaccinations? Make updating their vaccinations a priority before traveling. Petland in Georgia wants to make sure not only you have a wonderful vacation, but your pet does too! Keep your pup healthy and happy by making sure they have everything they need before traveling.
Keep your dog safe in the sun.
If you're traveling to a warmer climate, you want to think about how to keep your dog protected from the sun. Dogs can become dehydrated if they don't get enough water while in the heat. Be sure to have water available while touring. Be sure to take breaks if needed if you're walking your pet during extreme temperatures. It is not a bad idea to walk during the evening time when it is much cooler and tolerable for your pet. Remember you can always count on us. We have Petland locations near you and can assist to keep your pet safe while traveling.
Keep your dog safe while swimming.
Most people travel to warmer climates for vacation during spring break to experience some fun in the sun. As a pet owner, you may want to take a dip in a pool or visit a beach with your pup. Be sure your dog is prepared to swim in the pool should you make this a goal during your vacation. Depending on the breed, your pet may not be able to swim without the proper swim gear.
Be sure to check with your veterinarian or visit us at Petland locations near you for advice on equipment and or questions about how your pet can enjoy the beach or pool comfortably.