May 3, 2019
Bichon Frise dogs are the cutest dogs around!
Their fluffy white hair, black eyes, and fun personality make for a great longtime companion. Walking dogs in warm weather shouldn't be an issue because they are extremely energetic and playful most of the time. If you are considering adding Bichon Frise puppies to your home, we are here to help. Read on for more facts about this breed and why you should choose one of our Bichon Frise dogs. Check out all of our Bichon Frise puppies right here!
Bichon Frise Dogs – Intelligence
Did you know this breed type is very intelligent? They are easy to train and love to be with their owners. If you are living in a small space, such as an apartment you will be pleased with this breed. Bichon Frises aren't famous for barking frequently and are easy to potty train.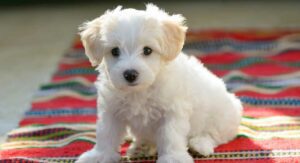 Loves to be with Family
They are considered a social type breed and love to be with their owners. If you work from home, this a perfect breed type for you! Consider this breed type for your children – a permanent best friend to run around the house with them. Bichon Frise puppies make for great siblings to the other animals in your home as well.
Loves the Outdoors
This breed dog loves to go outside and play. The jingle from the leash will send your pup straight to the door, ecstatic to run out and stretch those small legs for fun in the sun or even the snow. Walking dogs in cold weather will now be a breeze, literally. Here at Petland, we have a knowledgeable team to get you started on selecting a Bichon Frise pup for you.
Good Show Dogs
Did you also know that Bichon Frise dogs make great show dogs? They love to be the center of attention. Bichons are entertaining and have great personalities! If you are the type of owner that takes an interest in teaching your dogs tricks, a Bichon Frise puppy is right for you.
Come see our adorable Bichon Frise dogs at Petland today. We'd love to show you around!