April 4, 2018
We think it goes without saying that when you own a dog, there are going to associated costs that stretch beyond the initial purchase of pet.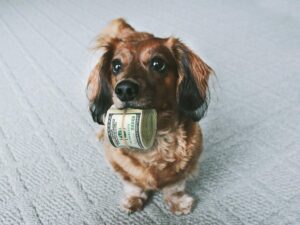 In actuality, pets can be quite expensive and that's why we offer a way to finance a puppy. We recognize that between food, vet visits, clothing, puppy decor and accessories – bills can add up quickly. It is estimated that a pet owner can spend $4,000 – $35,000 over the lifespan of a pet, whose life expectancy is 6 – 14 years, according to the American Kennel Club and the American Society for the Prevention of Cruelty to Animals. To finance a puppy is one way to help with the immediate expenses. Below, we give you 5 tips on saving money for future expenses.
Keep Tabs on Your Pup's Diet
When you finance a puppy, you'll want to be sure that you purchase the best food and treats for your pup. In order to live long and healthy lives, your dog needs to have a healthy diet. Feed your pup food that is best for his breed. Typically, food with meat as the first and main ingredient is best. Conduct your research and consult with your vet.
Beg or Borrow
The dog community is a tight and supportive one. Dog owners know each other. If you happen to know someone who previously had a dog or has an older one, ask for some of their gently used products. For instance, crates stick around forever, either because they outgrow them physically and practically. Some dogs just stop using theirs for comfort, because other places around the house suffice.
Use Coupons or Shop Online for Deals
There are TONS of deals online that can save you money. We feature products on sale as well. When you finance a puppy, you can apply some of the funds towards discounts, thus lowering your expenses.
Start A Pet Emergency Fund
Just like you would save for vacation or retirement or college for your kids, you should save for your pet expenses. Having a cash stash fund is crucial. Should emergencies arise, having these savings will prevent you from making difficult decisions when it comes to your pup's health and well-being.
Go For Regular Check-Ups
It's important to stay connected with your vet. Preventive care is very important for both humans and pets. This means that you should be sure to schedule and keep regular vet visits so you can stay abreast of any ongoing or potential problems.