September 21, 2017
Petland Kennesaw has the cutest Bichon Frise puppies for sale! Want to know more? Read along!
Bouncy, perky and playful are some of the adjectives that can be used to describe Bichon Frise puppies. Their happy-go-lucky demeanor endear them to strangers, owners, kids and other pets. The puppies are also described as sensitive, affectionate and responsive and like being cuddled. Want to see pictures of all of our Bichon Frise puppies for sale, just click here for our available puppies page!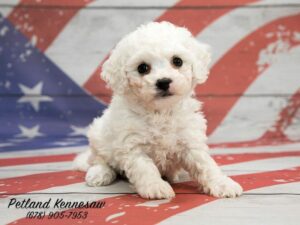 How to care for Bichon puppies
Although the Bichon Frise as a small dog is very active, it still requires daily exercise. Vigorous indoor games can meet his daily exercise needs or better still take them for a daily walk in the yard. Their coat also requires regular brushing and combing. Trimming can be done at least twice a month. Although they don't shed, loose hair can be entangled in their coat, therefore you have to stay on top of their grooming needs. Many people use a groomer to keep their Bichon's coat in tip top shape.
Affectionate and gentle demeanor
Most dogs are playful, but Bichon Frise puppies beat them all in this department! They're a wonderful family pet that will fit in well with others; it'll play with other pets such as cats. The children will enjoy every moment of its play. The adults are not left behind either; it's the type of a dog whose demeanor is gentle and affectionate, endearing itself to all the family members.
Training and housebreaking
Bichons are very intelligent and therefore need a firm hand when training. We always suggest positive reinforcement when training new puppies, as this will go a long way n strengthening the bond between owner and puppy. And, of course, treats are always the best way to get a new puppy, or adult dog, to do exactly what you want!