June 24, 2019
Summer is officially here and now is the time to get outside with your pup!
At Petland, we have some of the cutest big dog breeds in Georgia! We also have one of the largest selections of cute large breed puppies anywhere in the state. Want to see our cutest big dog breeds, just click here! Here are some "cool" activities to do with your dog in the summer's heat.
Go to a Lake or Beach
Man 'o man, there are so many dogs that simply enjoy playing in the water, whether it's a hose in your backyard or your bathtub! So, use the summer to foster their water fun desires! One of the joys of having the cutest big dog breed dogs as your pet is that many of them love being outside so take the time to spend some time at a lake or dog-friendly beach. If you don't have a lake nearby, you can always purchase a shallow kiddie pool for your dog to splash around in to keep cool.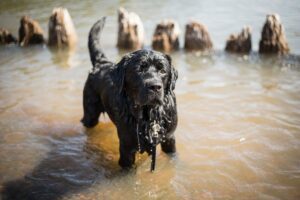 Go Walking or Hiking
There's nothing better than enjoying the great outdoors with your pup! In Georgia, there are many options for you to take the cutest big dog breed dogs on a hike. There are trails and mountains and your dog will simply enjoy the time bonding with you. Of course, you will need to be sure that your pup is well hydrated, so be sure to bring along plenty of water!
Create an Agility Course
If you've got the space in your backyard, set up an agility course and let the games begin! Dogs love and crave both mental and physical stimulation and agility courses provide just that…easily. Pop online to YouTube and search for agility course help. You'll find tons of resources. You'll also learn that you have many of those items around your house and won't need to purchase much. Your dog will be happily exhausted and most appreciative!
As you can see, there are plenty of things that you and your dog can do safely during the summer months. If you're interested in learning more about the cutest big dog breeds we have for sale in our store, don't hesitate to contact us!