August 26, 2018
Sometimes we have to remind our customers and the world that we are Petland, emphasis on the word "Pet!"
We have other animals in our stores, besides our cute puppies. You can visit our location and find that we have a cat for sale too! In fact, we may have several. We recognize that we tend to focus on dogs a little more so we're writing about the cute cat for sale you may want to purchase and how to care for them. In this post, we'll discuss litter box do's and don'ts!
DO clean the litter box often.
If the litter box isn't clean and pristine, then the chances are that the cat for sale that you purchased won't use it. They like clean areas. You should clean the litter box at least twice a day, adding more litter as needed. The actual box should be washed with baking soda or a natural unscented soap bi-weekly.
DO have enough litter boxes.
Unlike dogs who will favor a particular area based on their scents, cats like to have options. There is a general formula to follow. There should be two boxes per cat, so if you have two cats, you should have four boxes. This, of course, is given that you have space in your home. If you're still in the market and haven't gotten your cat for sale from our store yet, when you come in you'll be able to pick out litter boxes.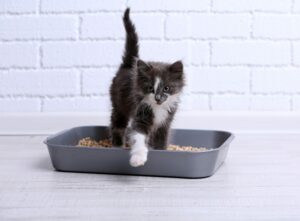 DO NOT place the litter box in busy areas.
You will need to place your cat's litter box in an area that's quiet and away from her food and water bowls. If there's too much foot traffic or if it's too close to where she eats, she might opt to go to the bathroom elsewhere. Like humans, they want and need privacy so place it in an area that provides privacy and easy accessibility.
DO NOT get small litter boxes.
Cats prefer larger spaces, as opposed to dogs who prefer small and cozy ones. Ideally, the litter box should be at least one and half times the length of the cat's body, which does not include the tail. It's a toss-up between covered and uncovered litter boxes. Pay attention to the cat for sale you've purchased. If you notice that she's a little skittish or uncomfortable with a covered one, come into our store for an uncovered litter box.