November 3, 2017
Don't know much about the Wheaten Terrier? It's okay, that's what we're here for!
The Wheaten is one of the many terrier breeds that come from the Emerald Isle, Ireland! They started out as, you guessed it, herding dogs and were a loving companion of farmers and their families for many years before coming to the US in the 1950s. While the Wheaten is still fairly rare, it's one of our most favorite breeds in the store because they are right at home with so many families! Why not get one of our Soft Coated Wheaten Terriers for sale before they're all gone, check them out here on our available puppies page!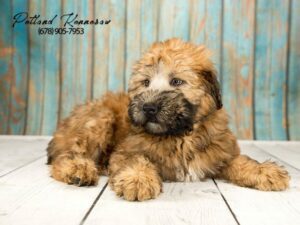 A little more about this teddy bear breed!
The Wheaton is famous for being very people-oriented and loyal, loving to be where their family is at all times. They also have a very distinct coat that does not shed and lightens as they get older. They do require grooming regularly as their hair will continue to grow and can become matted. Most people keep their Wheatens in a "puppy cut" where the hair is just a couple inches long. They come in a few different colors, including white, cream and, of course, wheaten, which is a golden brown color.
Energy requirements and other notable information
The Wheaten is an active puppy that has a lot of energy to run and play! They love children and can do well in smaller apartments or large sprawling farms! They are a medium sized dog that usually tops out around 35lbs and have an average life span of 12-15 years. This is a great breed that fits in a difficult category of light shedders, but not a small breed. Perfect for families with small children as they can be a little "rough love" with the puppy.
These are just a few things about this lovable little breed, so reach out to us for more information about all the puppies we have for sale in our store today!