September 1, 2017
Petland is your local source for all sorts of pets, and that means all variety of small and large birds!
Here at Petland, we like to make sure that we can accommodate all sorts of future pet parents. For this reason, we carry everything from puppies and kittens to bunnies and ferrets! But what many people don't realize is that we have one of the widest varieties of bird nurseries in north Georgia! That's right folks, we pride ourselves on our gentle, hand-raised birds and the families that choose to make them a very long lasting new family member. Read along for more information about the pet birds for sale in our store today!
Parakeets or Budgerigars
Parakeets make an excellent first time pet for those that have not had much experience with birds. They are on the small side, but that doesn't make them boring! Parakeets are well known for having big personalities that charm makes their new owners completely smitten. Parakeets also don't require huge cages, so if you're looking for a bird that you can spoil more with treats and toys than a large habitat, then the Parakeet is the bird for you!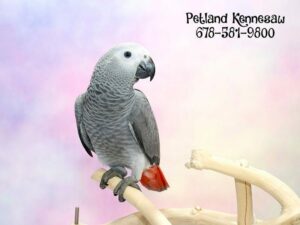 Cockatiels
Cockatiels are among our most popular pet birds for sale in our store. We like to think it's because we spend the time to hand-raise our little babies to keep them comfortable with people and very gentle. Cockatiels are another great choice for people that are not quite familiar with birds, but definitely would love one as a pet. Cockatiels are very intelligent and can learn to whistle songs and some even learn to talk! They can become very attached to their beloved owners and with a lifespan that can reach 20 years, that's a lot of feathery love!
Large Parrots, Macaws and Cockatoos
We also have a great variety of large pet birds for sale in our aviary for experienced bird owners and enthusiasts! We always hand-raise our large parrots to assure new owners of their gentleness and willingness to be handled by people. This goes a long way to strengthening the bond between owner and bird. We have extensive knowledge about large birds that we have gained over our nearly 17 years of handling and feeding. We also carry everything you might need for taking home one of our gentle giants, including high-quality large cages that you can see in person.
Come by today and see if any of our baby pet birds for sale might strike your fancy! Our knowledgeable Pet Counselors can answer any of your questions about the birds we have in our store, how to care for them and how they might fit in with your family!