May 19, 2019
Siberian Husky Dogs are a very popular breed because of how utterly beautiful they are!
However, these are not just beautiful they have some pretty awesome qualities that a lot of people do not know about. Though they look a lot like wolves they are in no way violent creatures. Huskies are some of the sweetest pets you will ever own. It is hard to find dogs that are both beautiful and have great personalities. Here are a few facts about Siberian Husky dogs. Want to see our Husky puppies first? Just click here!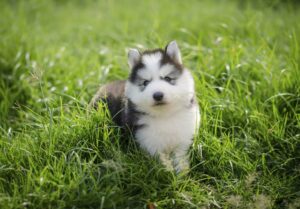 They are great family dogs.

Though they may look a little scary because of their resemblance to wolves, these dogs are some of the sweetest dogs in the world. These dogs are always up for playtime and awesome with kids. If you are committed to training them, they make wonderful house dogs.
They are perfect watch dogs.

These dogs have a heightened sense of safety, which means they know when things might be going wrong. Huskies make you feel comfortable and secure in your home because they will warn you if they sense danger. This is an amazing quality because while most dogs shy away from danger these dogs will try and protect you the best that they can.
They have a lot of energy.

Huskies really enjoy spending outdoor play time with their owners. If you have plans to go on lots of hikes this summer, you can count on your Husky to joyfully accompany you. These dogs love adventures and the outdoors. As mentioned above, they are also great trail buddies to hike with because they will let you know if danger is close around.
Visit Petland today if you are looking to buy Siberian Husky dogs! It is important to act fast because these are popular dogs and the demand becomes higher especially during this time of the year.