June 11, 2019
Are you interested in adding one of our cutest medium sized dog breeder this summer?
Well, here at Petland we have a great variety of awesome medium sized dog breeds for you to choose from. Medium sized dogs are some of the best dogs to own. Most medium-sized dogs can handle an outdoor adventure. So, if you have already planned some fun trips, your dog will love to come along. It can be tricky however finding the cutest medium sized dog breed for you, so we have come up with a list to help you narrow down your decision. Want to see all of our adorable puppies first? Just click here for our available puppies page!
Soft Coated Wheaten Terrier.
These dogs are great medium sized dog breeds. Wheatens are super cute and have a passion for adventures. These dogs will become your best friend almost immediately after meeting them. They are perfect breeds for families and especially families with younger kids. They are not too hyperactive inside the house and are pretty well trained at reserving their energy for the outdoors.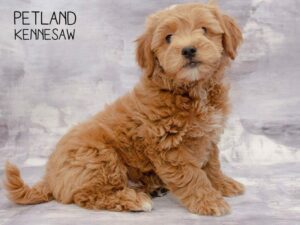 Miniature Goldendoodle.
Miniature Goldendoodles are amazing dogs as well! The Golden Retriever is the original mans best friend and Poodles are some of the smartest dogs in the world. They are also among one of the cutest medium sized dog breeds! From puppyhood all the way to adulthood these dogs are guaranteed to leave you with a smile on your face by the end of the day. These dogs love adventures but you do not have to take them on a hike to truly satisfy their needs. They enjoy small adventures, such as a walk in the park.
Shiba Inu.
These dogs make a great house and an outdoor dog. Shiba Inus are easy to take care of and they also love adventures. These dogs are the leaders of the pack, so they are sure to do well in a home with children. These dogs are awesome to watch grow from puppyhood all the way up.
If you are interested in buying a medium sized dog breed this summer, you should definitely check these dogs out. If you have more questions about these dogs and their qualities, feel free to give us a call or talk to one of our amazing staff members at any of our Petland locations.