March 11, 2018
Not everyone is a dog person, so shout out to those who love felines!
We know there's healthy competition and conversations amongst pet owners about what's better to purchase if you see a cat for sale or a dog. To each his own we say, but we find some humor in it all! Remember the comedian Jeff Foxworthy and his hilarious and sometimes controversial "You Might Be A Redneck If" punchlines? Well, we've taken some mild inspiration from him and compiled a few comedic reasons why you might be a cat person.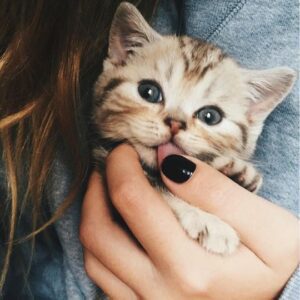 It happens…
You might be cat person if you don't want to pick up poop! Cats usually already know how to use a litter box or can easily be trained to do so. Cleaning is required only once a day and you can use a pooper scooper for assistance. Dogs need to be trained, socialized, and housebroken and this can take around 2 months with lots of consistency and persistence.
Your home security system's just fine…
Let's face it, cats aren't meowing or scratching to alert you of a potential intruder. They may just run away, conversely! Dogs can function as watchdogs or guard dogs, protecting their owner and the house. We think you might be a cat person if you have a home alarm system and don't need or want to rely on a dog to serve as protection.
You need your space…
You might be a cat person if you prefer to walk freely without little pups being underfoot or tripping over big dogs! Some people are instantly attracted to a cat for sale that they see simply because they're independent and on their own! They also know that cats need THEIR space and will pick and choose when or if they come around.
No trick-or-treating here…
Yes, a cat can be taught tricks, but we all know that dogs excel in this area. If you're content with tossing a ball of yarn or placing some furry pipe cleaners around for your cat to play with, you might be a cat person! The reality is that although some cats will learn to do tricks, they do so to please themselves and not their owners!
Potentially preserve your pockets…
You might be a cat person if you prefer to keep your pet costs to a minimal. A cat for sale is significantly lower than that of a dog. According to the ASPCA, a typical cat's living costs are $670 per year, including food, litter and medical costs. A small dog cost approximately $580, while a medium sized dog costs $695 and a large dog costs $875.