August 14, 2018
Adding a new dog to your home is a big fun deal, especially if you're purchasing one of our Boxer puppies in our store!
We have Boxer puppies that range from 8 to 16 weeks, and they are already tons of fun. Besides being absolutely adorable, our Boxers for sale come with the following:
They are fully vaccinated.

Each puppy is microchipped.

Our veterinarian has certified all puppies.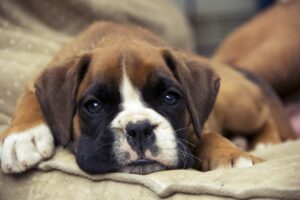 Here's what you can expect…
Sweet Dispositions
Our Boxers for sale are cute and cuddly and will grow up to look somewhat intimidating to people that don't know anything about the breed. They are actually big and playful goofballs who may seem rough, but they're actually very lovable. They are absolutely perfect for families with children and other pets. You can take them to your local dog park and watch them have a great time playing with the other dogs.
Quality Lives
Our Boxers for sale can live up to 14 years as long as they are exercised properly, visit their vets regularly, and eat healthy nutritious foods. Just as with any dog, there are breed specific ailments but they can be addressed with routine vet visits! We should warn you however that these babies snore and drool and there's nothing a vet can do about that! Oh, and we don't happen to sell earplugs here!
Some Stubbornness
Here's what we know for sure. You will rarely see any Boxers for sale highlighted in obedience competitions! This doesn't mean that our Boxers for sale can't be trained because they can be. It's just that Boxers have a wee bit of a reputation for being stubborn. We like to say that they are independent thinkers and aren't pushovers. Many Boxers will simply ignore you the first few times before they'll decide to follow your lead! It's quite cute, but you have to assert that you're the boss and they'll soon learn through consistency.
Here's another thing that we know for sure. Our Boxers for sale will bring you and your family such joy and constant entertainment! Feel free to stop by our store or check out our available puppies on sale today.