February 10, 2020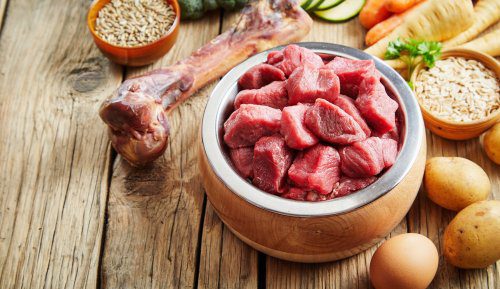 Every dog owner wants to give their dog the best of everything including high-quality food. There is a great number of dog foods to choose from but deciding which food is best can feel overwhelming. What you do need to do is provide proper nutrition to your dog to help prevent health problems as well as increasing the lifespan of your furbaby. So, let's dig into some of our suggested tips for choosing the right food for Fido.
Shop with your dog in mind
When considering the kind of food for your furry companion, you should consider age, level of activity, breed, and any health conditions your dog may have. For instance, puppies and lactating mothers need more calories each day, while older dogs require less. The type and amount of food you buy can directly contribute to health problems such as obesity, so choosing a quality dog food is very important. Some dog food brands make foods based on breed, but most only differentiate between small breed formulas and big breed formulas.
Know your ingredients
You need to know your dog's food ingredients, because what you don't know could, in fact, be harming your furry pal! You may think you are feeding your dog food for better health when in reality, the ingredients of your dog's food can be harmful. Some harmful ingredients to look for are corn and wheat gluten, meat by-products, and food dyes.
Choose foods with meat as the first ingredient. Pooches are omnivores and need high protein diets for good health just like their ancestors in the wild.
Dog food advisors recommend avoiding meat by-products because generally, they could include horns, hair, teeth, or hooves of other animals. Certainly something Max shouldn't be eating for breakfast or dinner.
However, if the food contains meat by-products that are approved by the Associating of American Feed Control Officials (AAFCO) then the by-products should simply be organ meat like kidneys, liver, heart, stomach, and brain. While it sounds truly delicious to you, it really is for your dog due to the rich vitamins, protein, and minerals these organ meats give your dog.
While you're out there searching for the best food for Max, you'll also want to make sure that the first ingredient is not grain, tubers, or vegetables, like ground corn. The fact that corn is digestible when grounded does not mean that it has a high dietary value. Corn has a low content of proteins, vitamins, and minerals, and the only reason why manufacturers use this carbohydrate is that it's cheap.
Protein content
Just like with human food, every ingredient on the dog food label is important and indicates the quality of the food inside. This is especially true with protein ingredients. According to FDA's dog food labels analysis, simple names such as "Beef for Dogs" or "Chicken Dog Food" signifies that the protein content is close to 95 percent of the total product, excluding water content.
On the other hand, phrases with "filler" words like "dinner" or "meal," such as at the Chicken Stew Dinner, signify that the food is made with a small amount of protein. Of course, if you want to make a chicken stew dinner for your dog, you can ensure that they will get the right proteins and have a scrumptious meal to boot. Hey, what dog doesn't want a homecooked meal?!
Is grain-free better?
Grain-free dog food is becoming more popular as dog owners know its health benefits. Veterinarians often suggest this kind of food for dogs with particular problems caused by poor nutrition. They also recommend it as the best kind of diet for pregnant or nursing dogs. This ensures the puppies and mothers remain in good health. If you feel grain-free is a better option for your dog consult with your veterinarian for more information.
Grain-free dog food doesn't mean that it's low carb, either. Many grain-free dog foods will replace grains with other plant-based foods such as peas, tapioca, and sweet potatoes. Just because a food is grain-free doesn't mean that it's better for your dog, either since they do need, like us, fiber to help digest their food. For more information, PetMed has a great article on Grain-Free vs Gluten-Free diets for dogs.
Our best suggestion is to work with your dog's veterinarian and nutritionist to find the best food for your dog's best gut health.
Review the Nutritional Adequacy Statement
It is normally found with the rest of the nutrition information on the food package, bag or can, along with satisfactory statements. They may read: "provides balanced nutrition for the maintenance of older dogs or for puppies". The statement is a nutritional claim that indicates that the food is nutritionally balanced for the life stage of your dog such as growth, reproduction, maintenance of adult dogs, and senior dogs or it could be a combination of these life stages. Making sure that these statements are on your dog's food ensures that you're buying quality food for Max at the right life stage.
Research your chosen brand
Before committing to a dog food brand that you think your dog will love, it is important that you do your research on the manufacturer to ensure quality control and the proper sourcing of ingredients. You'll want to ensure that you're buying the right food for your dog in any stage of life. Here at Petland, we feed and recommend Health Extension brand dog food and supplements!

To wrap it up, choosing a dog food isn't simply going to the store and buying something that looks tasty. You must ensure that the quality of your dog's food has been approved with an AAFCO statement of nutritional adequacy or purpose and that you've chatted with your vet in regards to grain-free or not.