May 5, 2020
When you see your fur-buddy standing at the door, wagging his tail and sporting that hopeful look, it's really difficult to resist. Use that to your advantage to help you meet your own exercise goals. Walking is fine, but jogging is even better. Everybody has days when they just don't feel like exercising, but that look of eagerness on your pup's face can help you maintain a regular routine.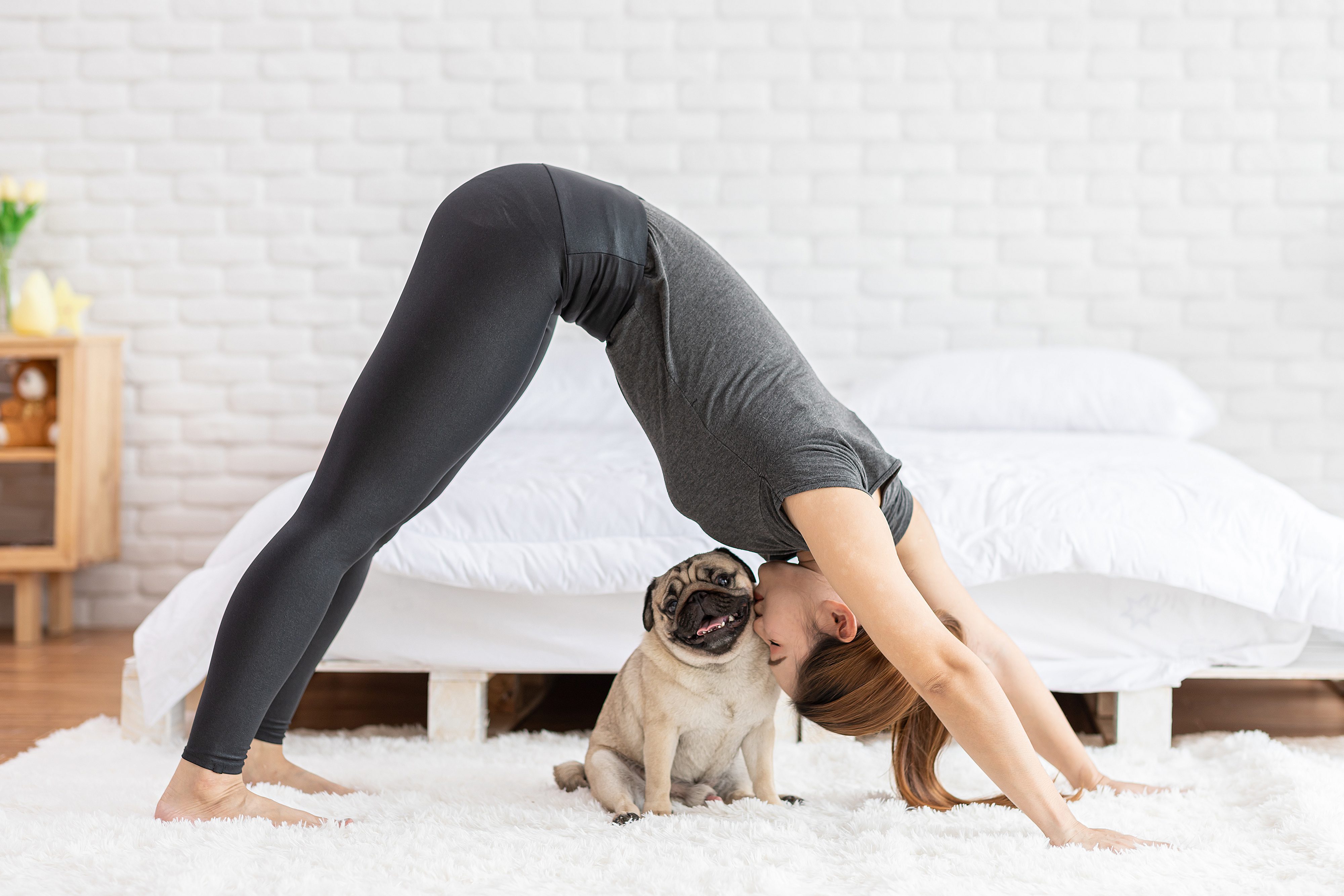 Bike ride with your doggo!
Take the bicycle out! Most every dog loves running and you can let him really stretch out while you build your own leg muscles. It's also a great way to reduce bad dog behavior. Most trainers start an interview with an owner by asking, "How much exercise is she getting?" Experts know that aerobic exercise releases serotonin in the brain, the hormone that helps your dog relax. Many behavioral issues disappear when your dog gets enough exercise. (if you have a dog who gets easily distracted, consider adding a Springer device to your bike's frame to absorb the force of sudden tugs (available on Amazon).
Dog Yoga? Yes!
Are you into yoga? Well, your pooch just might be, too. Check out his morning stretches. Doesn't it remind you of your yoga class? You're not alone if you think Fluffy is doing a perfect cobra and "doga" is fast becoming a favorite way for some owners to exercise with their dogs. There are actually classes you can sign up for that take "downward-dog" to a whole, new level!
If you have one of those dogs who walk around with a tennis ball in his mouth all the time hoping someone will play fetch, this next one's for you (and Fido, too). In an enclosed area (like a dog park or fenced back yard), take Fido's ball and throw it, hard. Then race Fido to the ball. Not only will your fur-buddy get a workout, but you will, too.
Play Ball!
If you have a herding breed like a Border Collie or a Welsh Corgi, soccer might be the best exercise for you both. Pet stores sell soccer balls made for pets' sharp teeth and in sizes appropriate to the size of your dog. Nudging the ball around with your feet and playing "keep away" can not only be a really good exercise (for you both) but immensely entertaining at the same time.
Agility training lets you "get in the game" with your dog and if you're competitive, you'll have no problem finding agility trials to participate in. Agility is a team sport. You'll both be running around an obstacle course while you direct your four-footed team-mate so he knows which obstacle to doing next. Agility trials are sanctioned by the American Kennel Club, but any kind of dog can compete, purebred or not. (AKC offers a free e-book for those new to the sport.)
Gee Jumping!
Another sport that challenges your dog's agility is Parkour, or Urban Agility, as it's sometimes called. Because the only competition is with yourselves, dogs who are uptight about the competitive arena of Agility can have fun and develop the same skills but in a non-threatening environment. The obstacles are things you encounter in any urban setting, and most dogs love it when they get the hang of what you're asking them to do. To learn more about this fascinating, new dog sport, check out the Pet Central website.