September 9, 2019
Pumpkin Spice & Everything Nice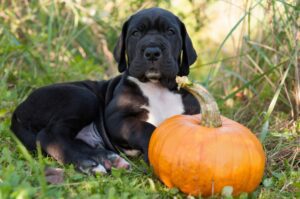 The sight of the leaves changing colors and the cool evening breeze lets you know Fall is here.  Fall is a special time of year to enjoy before the cold winter arrives. What's even more special about this time of year is that its Pumpkin season! Who doesn't love the sweet aroma of pumpkin in their food and drinks? Pumpkin doesn't just taste good it has great health benefits that can be shared with your pet. Today we are going to share some health benefits of pumpkin treats and some great yummy recipes your dog will drool over.
Health Benefits of Pumpkin
Pumpkin has been used for decades to help maintain and improve health. The benefits of pumpkin are endless and because it's a seasonal vegetable everyone (including your furry friends) gets excited when its harvest time. Here just a few benefits that dogs can experience from eating pumpkin.
Improved Heart Health

Reduced risk of certain cancers

High in Antioxidants

High in Magnesium

Lowered blood sugar levels

Improved prostate and bladder function

High in Fiber
If you are looking to incorporate pumpkin into your dog's diet and lovemaking natural yet simple treats for your dog to enjoy then you will love these recipes.
Peanut Butter and Pumpkin Dog Treats Recipe
This dog treat recipe is simple and needs only three ingredients. It's fast and ready in just 30 minutes. Pumpkin and peanut butter dog treats will have your puppy barking for more. Luckily this recipe makes 50 snacks you can grab anytime to make your puppy happy and healthy.        
Ingredients
      1 cup oats (old fashioned, 1-minute oats, or instant),

      1/3 cup pumpkin pureé (not pumpkin pie filling)

      1/4 cup natural peanut butter
Instructions
Remove from the processor and roll out on a lightly floured surface. (Use whole wheat flour, more ground oats, or another flour that you have on hand). Cut out cookies with a small cookie cutter or cut into squares with a knife.
Puppy Pumpkin Muffins Recipe
Pumpkin Muffins are a soft and easy to chew treat that can be enjoyed as a midday snack. This recipe is one that you can make any time and it will have your dog licking his chops for more.
  Ingredients
Instructions:
Preheat oven 350° F.
Lightly grease or spray muffin tin.
Place oats in blender or food processor and pulse until oats are about half powder.
Place oats and all remaining ingredients in a large bowl and stir until just mixed.
Fill muffin tins 2/3 full with batter.
Sprinkle oatmeal on top of each muffin to make them more eye-appealing and give your pooch a bit of crunch.
Bake for 15-16 minutes until tops are golden brown.
Puppy Pumpkin Puree Recipe
Pumpkin puree has a ton of nutrients and can be used to make even tastier goodies for your dog. It has high fiber content and can be a helpful tool for both treating constipation and diarrhea. This puree will also make your dog feel full, so it can double as a way to help your dog lose weight in case he is gaining a few extra pounds
         Ingredients
1 large, ripe pumpkin

1 baking sheet

parchment paper

large knife

spoon for scooping seeds
         Instructions
Wash the pumpkin.

Preheat the oven to 350 degrees F.

Divide the pumpkin into quarters. You'll need about 1/4 of pumpkin for this recipe

Cut the quarter into smaller pieces.

Scoop out the seeds. Save the seeds to wash then roast!

Place pumpkin slices on a baking sheet lined with parchment paper.

Bake about 45 minutes (the pumpkin flesh should be fork tender)

Removed from the oven to cool before removing the baked pumpkin skin (and discarding it).

After removing the outer skin, cut the pumpkin into small chunks and toss in the blender, gradually adding water to puree the pumpkin to the consistency of baby food.

Freeze puree into one-cup containers or in ice cube trays.
Over-Sized Pumpkin Pies Recipe
 These festive dog-friendly pies can be used for any occasion. Your dog will not refuse this tasty pumpkin treat, so celebrate over and over with an over-sized pumpkin pie.  
Ingredients 
1 portion pumpkin dog biscuit dough

2 cups pureed pumpkin

Goat yogurt

Roasted ground pumpkin seeds
Instructions 
Preheat the oven to 320 degrees Fahrenheit.

Roll your pumpkin dog biscuit dough to 1/8-inch thickness.

Use a glass to cut out circles.

Use your hands to carefully drape and mold the circles into mini muffin tins.

Bake for 25 to 35 minutes or until golden and crisp.

Let cool for 15 minutes.

Fill each pie crust with a generous amount of pureed pumpkin.

Top with goat yogurt and a sprinkle of ground pumpkin seeds.
Fall and pumpkins are a match made in heaven. This year while your body is thriving on the sweet taste of pumpkin and all its health benefits, cook up a few pumpkin snacks for your puppy. Enjoy the tons of vitamins and nutrients in pumpkins that are proven to benefit you and your dog.
It's the perfect time of year and your puppy will love long walks, falling leaves, cool brisk breeze and of course recipes for those yummy pumpkin treats!