October 4, 2018
If you're searching for where to buy puppies, look no further! At Petland, we have many breeds to suit many lifestyles.
Adding a new furry family member can be a difficult task, but it doesn't have to be. We understand that there are stereotypes associated with where you buy puppies and what kind of puppies are "in" and which ones are passé. Wherever you fall on the spectrum of your quest to add a dog to your home, we've got you covered!
At Petland, we pride ourselves on being experts on matching the right pet with the right family and meeting the needs of both, with pleasure. Our onsite pet counselors can answer questions for you because they are very knowledgeable. They have a plethora of random, and not so random, dog facts. We strive to continuously raise the bar for our customers and every day it shows!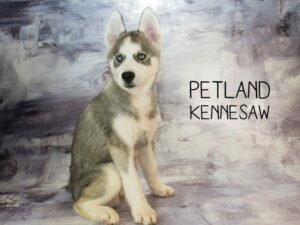 Big Dog or Small Dog or Somewhere In-Between?
We know this is a personal choice. We get it! We really do, so we know that there is no right answer. Here are a few things to ask yourself when you're deciding to buy puppies from Petland:
Do you have the physical space for a large dog?

What's your home environment?

Do you have access to parks and places where active dogs (small, medium, or large) can roam, play and exercise?
Many people choose the popular dog or something they've grown up with over the years, but we say that you should be flexible when buying puppies. Keep your options open and then go with the flow!
Training Your Puppies
We have an excellent puppy training program, but it's for you as an owner! Huh? Even if you grew up as a child with a dog, your responsibilities were completely different from that of adults. Not everyone has trained a new puppy, or maybe you're a little rusty and need some fine tuning.
We want to make sure every new puppy owner goes home with the necessary tools to help you be successful with teething, housebreaking, and basic commands. The first few weeks with a new puppy are fun, for sure, but they are also trying times that require diligence and patience.
So, do you think you're ready to buy puppies at Petland? We think so, but just in case you still have questions, we're here to help!