March 21, 2019
Congratulations on the purchase of the Pomsky for sale from our store!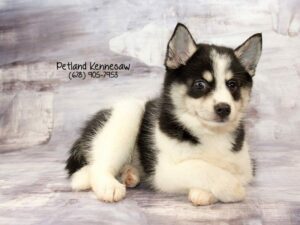 Now that you've found your pup and made such a wonderful choice, the important part begins. Time to care for your new pup. Below are a few things that you'll need to do to ensure your new canine companion is happy, active, and healthy!
Exercise Your Pomsky
We've said it before and we'll say it again. Dogs are like humans in that some sort of exercise is needed to maintain a healthy body. Luckily, like others, the Pomsky for sale that you purchased loves to play! They are generally active so that means you'll have meet them at their level of activity. We don't mean that you'll have to take her on long extended walks, but certainly a daily one. In the house, engage in some playtime with your pup. Here at Petland, we know that puppies put in much more nap time than playtime, so be mindful of that and try not to over exert your pooch.
Keep Her Company
We don't recommend that you leave your puppy alone for extended periods of time. This is particularly important when she's first brought home with you. Try to keep her company or have someone in the family around her as much as possible. Dogs don't like being left alone for long, because they feel lonely and get bored and boredom can lead to bad behavior in some dogs. Find ways to minimize times when she'll be unsupervised.
Provide Mental Stimulation
It may not be enough to just exercise your newly purchased Pomsky for sale, in fact we're sure of it! All dogs require some level of mental stimulation and yours will be no exception, especially in the puppy phase. During this time is when they can develop destructive or constructive behaviors and you want to aim for the latter! Do not give her any room for boredom. Provide your pup with age and size appropriate toys, while monitoring if you're not directly playing with her.
We want to make sure that the Pomsky for sale that you brought into your home has a smooth and lasting transition. Feel free to contact one of our pet counselors if you have any questions or concerns.