August 22, 2018
Maybe you haven't planned to get a dog and just happened upon a cute puppy  at one of our Petland locations.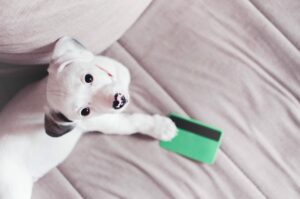 Perhaps you have wanted one for a very long time but realized that you only have a portion of the funds to get the dog of your dreams. Whatever your specific case is, we have good news for you. You can finance a puppy with Petland! We have partnered with reputable lending institutions to provide our customers with this wonderful opportunity.
Here at Petland, we understand that a pet is not always in the immediate budget. This is why we proudly offer low monthly payments to those who need it. We've certainly gotten questions from people who ask us if it's strange that we offer to finance a puppy. It's a relatively new but actually a very common practice nowadays.
There are additional costs associated with pets, outside of the actual price of your new precious pup. Thankfully, when you finance a puppy with us you can use those funds to support those extra costs. For instance, your puppy will most likely need a crate, certainly food, a puppy bed, and some chew toys. These are simply the things you need to be a responsible pet owner, but they can really add up.
If you don't need to finance a puppy, but will need to pay for the extras mentioned above, we also have a Petland credit card. There is no annual fee, and you earn rewards on revolving purchases. We make the application process very easy for either way you wish to finance a puppy or its associated costs. Our process is straightforward and quick. The financing forms take soft looks on your credit. We want you to know that we will never pressure you into using either of these options because they are just that – options.
Please do not hesitate to call us today with any questions you might have about how to finance a puppy. We are patiently and happily here for you!