April 28, 2018
How much is that teddy in the window?! It's a familiar jingle and we playfully substituted "teddy" for "doggy!"
It's because we know that question is asked with regards to the teddy bear dog breed! At first glance, you may think it's a teddy bear, but it's a puppy! That puppy synonymously associated with a teddy bear is actually called the Zuchon. It's beautiful blend of the Shih Tzu and Bichon Frise. They go by a myriad of names and it doesn't matter which you choose, because ultimately, they're going to make you oo and ah and take them home!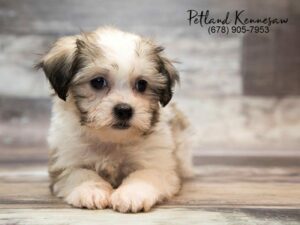 History
The teddy bear dog breed is a new one, which originated in the United States. They have steadily gained popularity in the hearts and homes of many dog owners. They are said to have been first discovered and introduced in 2000.
Sizing Up
Zuchons, the teddy bear dog breed pups, typically weigh between 5 and 15 pounds and they stand from 6 to 12 inches tall. They should be fed dry kibble of high quality, especially designed for small and active dogs. They are generally healthy dogs, with a life expectancy of 15 and 18 years old!
Training
You won't have much of a problem training the teddy bear dog breed, because they are intelligent and eager to please. They are rather treat motivated, so use them to your advantage when training your pup. You'll get the desired results!
Temperament/Behavior
As we previously mentioned, they are rather intelligent. The fluffy furball is friendly and will suit well in just about any home. His social and well-mannered behavior is welcoming. He's not much of a barker, but he will alert you when the doorbell rings or there's a knock. They're extremely playful, but not so much so that they won't find solace lying in your lap gazing at you and then drifting off to sleep!
Exercise Requirements
He's definitely a playful pal, so any sort of game will serve as exercise and meet his daily requirement of physical activities. Of course, he'll still enjoy and benefit from his daily walk around the neighborhood or a little socializing at your local dog park. It's been reported that the teddy bear dog breed is exceedingly intuitive. They will conform to your energy level, so if you want to go for a long walk outdoors or relax on the couch, they're game either way!
Puffy Coats  
The teddy bear dog breed is hypoallergenic, with hair that's either curly or silky and long and flowing. Their colors range from variations and combinations of silver or gray, tan or cream, or black and white. You'll also find that they can be all black, chocolate brown, red, and apricot. They require a good brushing every few days, but you'll have to cut it periodically to maintain its lux and shine!