October 1, 2019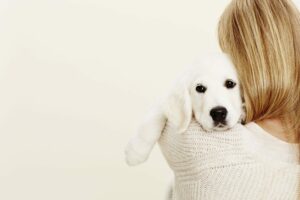 October is National Animal Safety & Protection Month. This is a great time to practice safety measures and keep your furry family member protected and healthy. Since your dog can not speak and tell you exactly what hurts, its essential to recognize any different behavior that suggests things aren't normal. We don't expect an emergency to occur but accidents happen. Here are five helpful pet safety tips designed to help you prevent and be prepared in case of a pet emergency.
Make Sure Your Home is Pet-Proof
Pets are curious beings just like babies and they love to explore our homes. Look around your home with a dog-friendly eye. If there are items that are hazardous or toxic to your pet secure it in a safe spot. Accidents happen in seconds its best to remove items that can fall or be knocked down while your pet is exploring. Some techniques you can use to pet-proof your home: 
Safety cabinet locks will keep your pet out of cabinets and away from toxic products

Make sure floors are clean from any hazardous debris

Close off doors you do not want your pet to roam in.

Place breakable items out of reach

Remove choking hazards such as blind cords out of the reach of your pet
Immunize
Pets must be up to date with their immunizations. Ask your veterinarian for a schedule to track your pet's immunizations. Vaccines help prevent diseases and other illnesses that affect pets by preparing the immune system to fight disease-causing organisms. If by chance your pet is exposed to the actual disease and has been vaccinated, his immune system will be prepared to fight it off. Things to remember about immunizations:
 Vaccinating your pet is one of the best ways to help your pet live a long and healthy life

Vaccinations help prevent extreme cost for preventable diseases

Check the state laws for rabies vaccines as they are required yearly in some states

Pay attention to any reactions your pet may have after vaccines, mild symptoms are normal

If your pet is injured or ill seek help

Keep records of your pet's vaccinations
Pet Identification Is A Must
According to the American Society for the Prevention of Cruelty for Animals (ASPCA) 1/3 of pets will be stolen or loss in their lifetime. This means even the most protective and loving pet owners could find themselves looking for their pets. Playful and determined or frightened dogs may dig a hole under a fence and escape, or even be stolen. Whatever the reason, everyday dogs go missing. Lost dog posters can be a bit helpful but even more helpful is making sure your pet is easily identifiable. Dog tags should be placed securely on your pet's collar and the collar should be labeled. The following precautionary measures can be helpful in getting your family pet home if they are ever missing.
Take pictures of your pet. These pictures can be used to make it easier to find your dog in case they get loose. 

Personalize your pets dog tag – place contact and medical needs if necessary on their tags

Microchip your pet
Know Your Pet Well
Your dog may be very smart, but they are depending on you to protect them. As pet owners, you must get to know your pet inside and out to properly safeguard them. Observe your pet's behavior by watching how he plays and his mannerisms when he is healthy. If your pet seems ill or there are drastic changes in their behavior consult a professional veterinarian before administering over the counter medications. Signs your pet is not well may include:
Gnawing on skin

Decreased energy

Loss of appetite
Have A Plan In Case Of A Disaster
Weather emergencies, fires, and other unplanned events can be unpreventable. Have a written plan in case an unforeseen disaster occurs that you or a caretaker could easily follow. Learn basic first aid techniques that could prevent further injury or be a lifesaver to your pet while you await first responder assistance. When writing this plan consider:
A fire escape plan for your family and your pet

Place signs on your windows indicating the number of pets and humans residing in your home 

Transportation for your pet 

Determine who is responsible for locating each pet in your home
Safety for your pet is an important issue and being proactive is essential in preventing injuries and loss of your family pet. October is National Animal Safety and Protection Month, these guidelines should be followed every month. Be the best owner you can be and protect your precious pet.