October 14, 2018
Sometimes, you really just know what you want.
You've decided that you want to purchase a puppy and you're searching "small puppies for sale near me" online. We have small puppies suited just for you at Petland. Below are some popular small dog breeds that we sell.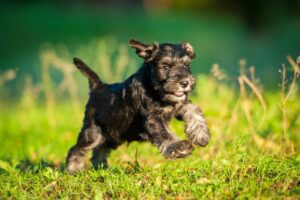 Cavachon Puppies
Cavachon puppies are the adorable blend of a Cavalier King Charles Spaniel and a Bichon Frise. It's said that they originated in the 1990's and that the Gleneden Kennel takes ownership of developing and naming the breed.
Miniature Schnauzer
There's no way that you searched for "small dogs for sale near me," and the Mini Schnauzer at our store didn't pop up in your search results. We always have these handsome little beauties. Their long, distinctive mustaches/beards and long eyebrows to match makes them a dapper hit. As an added benefit to their affable personalities, they do not shed much, so they are perfect for potential dog owners who have allergies.
Teddy Bear Dog
The teddy bear dog breed is a relatively new type of dog that was first discovered and introduced in 2000. These designer dogs consist of and are commonly known as the Zuchon or Suchon, which is a cross breed between the Bichon Frise and Shih Tzu.
Yorkiepoo
What do you get when you mix a Yorkshire Terrier with a Poodle? You get the cutest and most cuddly puppy called a Yorkiepoo! They are a delightful handful and are always willing to perform tricks or show off for any visitor in their home. They exude confidence and effortlessly command attention!
Maltishi Puppies
Take one Maltese and add one Shih Tzu and you've got a recipe for one of the most fabulous small dogs. Searching for "small dogs for sale near me" undoubtedly to lead you to these fluffy play pals. They have been bred to be companion dogs, and they excel at the task. Just as with the Mini Schnauzer, they are hypoallergenic, so people with allergies purchase these puppies often, and they're a hit!