October 26, 2018
They are feisty, intelligent and one of the most recognizable breeds. We're talking about Pomeranian puppies!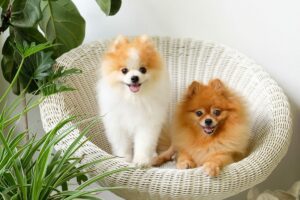 When you see a Pom, you know a Pom. They are one of the most popular small breeds of dogs. They've been part of households across the world for years, but are they right for you? Here at Petland, we believe that there is always a perfect breed for every family, so do you think the Pomeranian is right for you? Read further to decide!
Part of the reason Pomeranian puppies are so loved is because of their unique fluffy coats! To keep them in a tip-top shape they'll need regular brushing to keep it clean and healthy. You don't need to shave or groom them, but brushing, as we mentioned, will help tremendously with their shedding. They shed moderately so you'll want to stay on top of it.

Poms aren't the best with children, especially younger ones. They thrive best with adults, and seniors favor them.

Pomeranian puppies need to be trained early with a firm hand because they are a bit stubborn. With positive reinforcement, they'll respond faster and easier.

Poms are no doubt barkers and a very protective breed, despite their little size!

They adapt well to any living environment. Apartments are just fine and perfect since they don't need a large yard. They are also very adaptable to any temperature, so hot or cold climates suit them just well. Pomeranian puppies aren't particularly active, so around the house play and short walks work for them. Because of their petite and unassuming size, they are great companions for running errands!
At Petland, we know that selecting the perfect pet for your home and family can be a complex and sometimes difficult decision. That's why we have knowledgeable onsite pet counselors who can help you with your choice. We have Pomeranian puppies on sale and many more breeds. Check out our available puppies page and contact us for any more information or come to visit our store.