February 17, 2020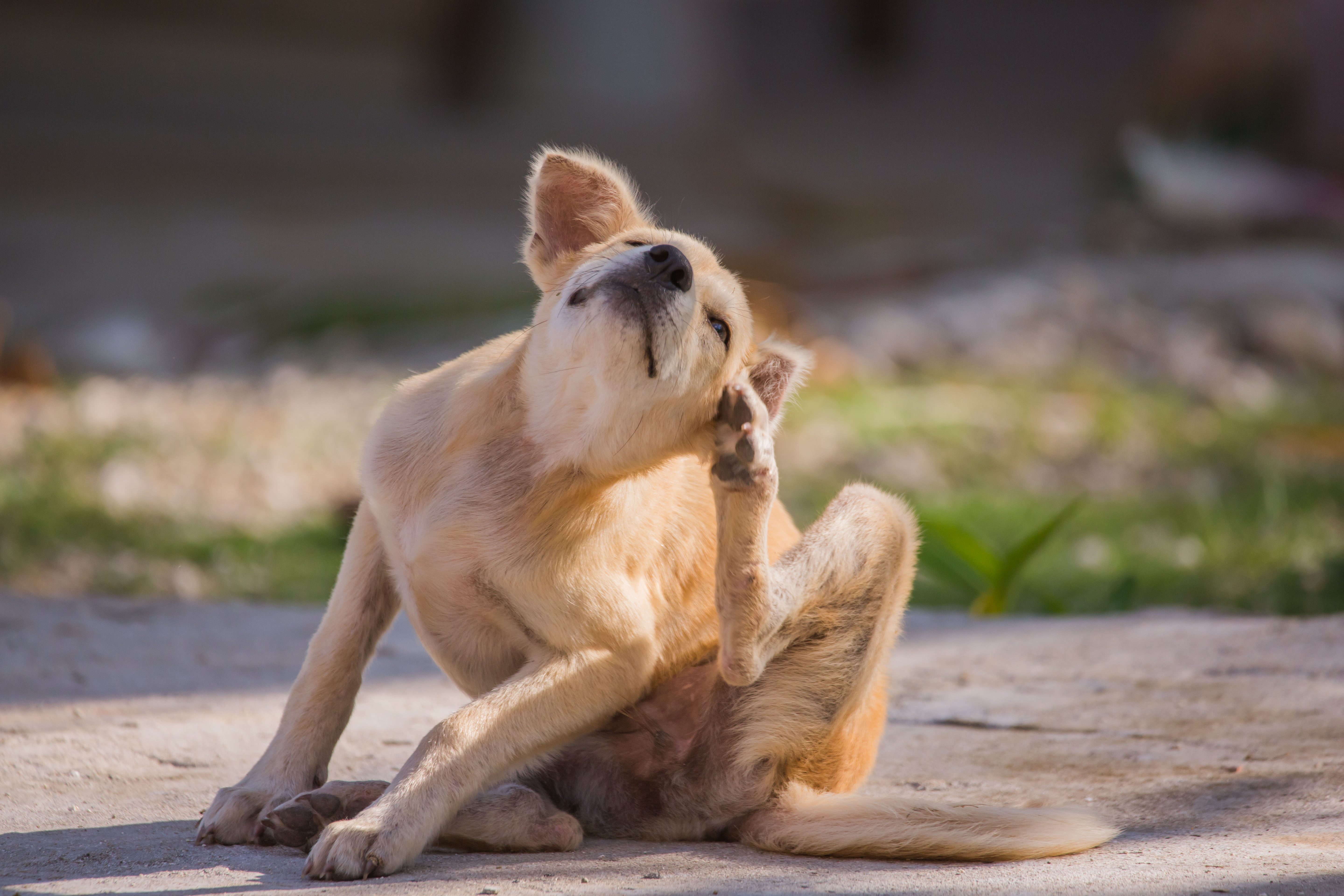 Spring is the season in which flowers and plants come back to life. Unfortunately, the beauty of Spring is accompanied by pollen, dust, bugs and other allergens that can make your eyes water and your skin crawl. Our furry friends can also become a victim of the symptoms of allergies. Read on to learn some of the things that you can do to recognize, prevent and alleviate the symptoms of allergies.
Allergens that can affect dogs
Similar to humans, there is a wide range of allergens that can affect your dog, but the most common allergies seen in dogs (and humans) are:
Seasonal Allergies – Caused by seasonal plants, pollens, and grasses and are normally seen during spring and summer months when plants are most active
Food Allergies – Caused by food intolerances
Insect allergies – Caused by bug bites including but not limited to fleas, ticks, and spiders
Symptoms of allergies
Humans can display a wide range of allergy symptoms, but in dogs, we mostly see itchy skin as a response to the most common types of allergens. Dogs can also display the following symptoms as a response to allergies:
Ears
Red odor
Waxy discharge
Yeast infections
Scratching, rubbing, shaking head
Face
Frequently rubbing face
Hair loss around ears or muzzle
Swollen face
Lots of scratching and rubbing of the face
Sneezing
Skin
Redness
Bad odor
Hair loss
Scaly skin
Dry, irritated skin
Scratching and trembling
Licking skin
Rubbing on objects
Hair coat
Redness and bare spots
Dull or greasy fur
Bad odor
Discolored fur from licking or sores
Licking body
Scratching
Rubbing on furniture
Paws
Discolored
Inflamed
Hot spots
Dry skin
Red or brown skin between toes
Excessive chewing or licking paws
How to prevent allergy symptoms in your dog
Respond to pollen levels and high pollen areas
If possible, avoid walking your dog in the early morning or late afternoon, when pollen levels are typically highest. Steer clear of fields and parks where offending plants are common.
When you return home, wipe your dog's body and paws with a moist cloth. This will remove excess pollen and other allergens from your dog's fur and skin without the hassle of a full bath. Pay special attention to the paws, as the sensitive skin there is often affected by allergens. Another solution is to put pet boots on your dog's paws to prevent them from stepping in irritants and then tracking them into your house.
Keep it clean
Inside your home, regularly change air filters to cut down on airborne allergens that enter through open doors and windows. Running an air conditioner or a dehumidifier will help remove moisture from interior air, making it harder for allergens to settle in your home. Investing in high allergen air filters also helps reduce irritants in your house as well. Also, vacuum at least once a week, and remember to clean curtains and rugs that may have picked up dust and pollen.
Remedies for dogs with allergies
Antihistamines – OTC products such as Benadryl are safe for dogs but be sure to consult with your vet regarding dosing. 
Oat Bath – If you prefer natural remedies to treat symptoms such as itching, oat baths are a great option. 
Aloe Vera – Another natural option for topical relief is aloe vera, which contains an antifungal and anti-inflammatory.
Coconut Oil – Adding coconut oil to your dog's diet can reduce inflammation and help promote healthy skin. 
 Don't let Springtime allergies keep you and your dog indoors. Enjoy the outdoors as much as you want now that you have some helpful tips and tricks to keep the allergies at bay.