April 20, 2021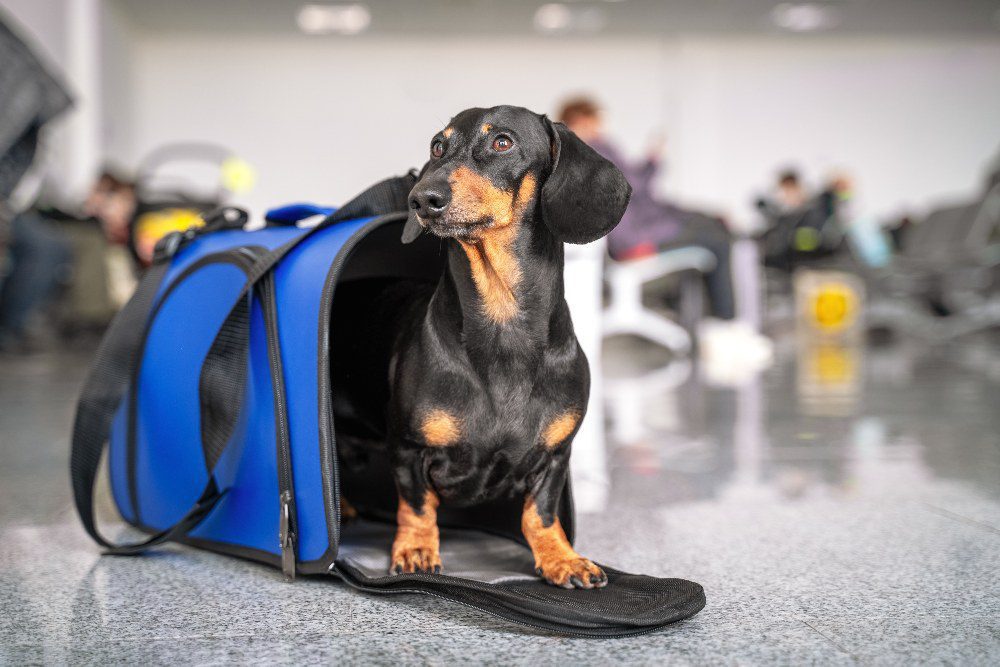 Whether you're vacationing, moving cross-country, or going home for the holidays, chances are you've considered what it would be like to take your dog on a flight.
Flying is essential for condensing a huge trip into a few short hours. However, it can feel like an enormous undertaking to try to get your pet on the plane with you. After all, are they allowed to be on your lap or just in the cabin? Should you get them anti-anxiety medication for the trip? Is it even worth it?
There's a lot to unpack (sorry for the pun, we had to) so check out our pro-con list on flying with furry friends below.
Pre-flight Considerations
A stressed pet isn't enjoyable for anyone – least of all the owner. If your dog has a history of nervous or noisy behavior don't expect them to behave better than they do at home.
The size and breed of your pet is particularly important because most airlines have a weight limit of 25lbs for in-cabin animals as well as restrictions or bans on certain breeds. In the cargo-hold (meaning where the luggage goes) most airlines allow for dogs over 25lbs up to a certain limit, Air France allows for dogs up to 170lbs!
Also, breeds like pugs, bulldogs, and Boston terriers can have breathing issues when pressure changes inside an aircraft so they are prohibited from flying on most airlines. This means that traveling with smushy-faced dogs or big dogs may not be an option for you so don't stress the process and grab extra treats for your road trip.
Time of year also plays a role in planning a dog-friendly journey. Remember, dogs can't sweat! So, it can sometimes be difficult for them to regulate their body temperature when warm. If traveling by plane in the summer months, it might be best to board your dog to avoid heat exhaustion.
Pet Policies Vary Between Airlines
Covid-19 has changed the way we all look at travel. As of December, 2020 the Department of Transportation (DOT) in the U.S. says it no longer considers emotional support animals to be classified the same as service animals; this lets each airline determine how they want to handle letting pets on flights.
However, some airlines like American still allow for pets to board with a process very similar to how they did pre-pandemic.
Most airlines agree to these policies:
· Pets are required to be 25lbs or under and fit in a standard size carrier
· You must have all paperwork from your vet stating that the dog's shots are up to date
· Your pet must be able to remain in the carrier for the duration of the flight
· A fee is typically required (this usually around $125 and can happen online after you buy your ticket when you bring your pet with you to the airport)
Fur-st Class Anyone? What to Expect When at the Airport
If bringing your pet along, one of the biggest stressors is the unknown of what that process entails.
It's best to get there early and we mean early. You are required to check in when traveling with a pet even if they're your only carry-on. You will go over relevant paperwork with an airport associate and then you're on your way! Most airports let you walk around with your dog outside their carrier (on a leash) as long as they are not disruptive.
No – they do not go through the bag conveyor belt but a security team member will likely wipe down your hands after going through the metal detector if you carry your pup in your arms.
Get settled at your gate and give your pup some snuggles and treats for their good behavior and patience. Also, remember to pack your patience too – traveling with a pet can be overwhelming the first time, even if all goes according to plan.
Download a map of the airports you'll be at on your phone so you can look up what pet relief area is closest to your respective gates. Both before and after your flight take your dog for a potty break. Pet areas usually have a potty area with turf and a drain, a little water spicket, and a sink and paper towels.
After landing, try to get your bags and head outside for a little romp. It's always good for them to stretch their legs and take in their new surroundings after traveling for a while.
Things to Pack
·An empty water bottle and a collapsible dog bowl. You'll need something to fill up after you get through security so your pup doesn't get parched
·Paw or baby wipes – antibacterial but gentle on skin
·Paper towels in a pocket of the carrier in case of an accident
·Any necessary puppy pills (it's also best to give anti-anxiety meds before even getting to the airport)
·A folder for all required paperwork
· Leash/harness/bags
· Some dry kibble in case of tummy upset
·A pillowcase or old t-shirt, unwashed, in their carrier so they are comforted while on the plane. It's a lot of mental stimulation to walk through the airport and all the sights and sounds can be overwhelming
·Treats (naturally)
Is Bringing Fluffy on the Plane Worth It?
It's important to think about why you're bringing them along and if they will be stressed by the time they get there. If reluctant to board your dog, there are plenty of house-sitting services that allow them to stay in their comfy environment while you're away.
Is your dog small, well behaved, and down for anything? They seem perfectly fit for take-off.
Each person has a different threshold of stress and ability to 'go with the flow' so if you want to try it out, more power to you.
Our overall opinion is to think about whether the experience will enrich or hamper your trip.
Do your pre-flight research, talk to your vet, and have your packing list and a plan so you can make the most out of your trip for you and your pet!